EMS17 Transportaiton
 Japan → Aichi(Nagoya) → NCU(Kita Chikusa Campus)
  日本   愛知(名古屋)   名古屋市立大学(北千種キャンパス)
⇒ NAGOYA info.
⇒ NCU(Kita Chikusa Campus)
◆to JAPAN
◎Chubu Centrair International Airport, Nagoya (strongly recommended)
 △Narita International Airport △Kansai International Airport
    

to top
◆from Chubu Centrair to NAGOYA
 ↓
 ↓
 ↓
 ↓

the Nagoya Railroad (Meitetsu)
(Barrier-free access is available between the
Central Japan International Airport Station
and the Passenger Terminal Building.)
 ↓31mim.
 KANAYAMA 金山
 ↓2min.
 NAGOYA 名古屋
to top
◆from NAGOYA to NCU Kita Chikusa Campus
 We recommend ①Bus.
 ①Bus(Kikan 2 基幹2) at Nagoya City Bus Terminal Gate 10
  →(27min., 210yen)KAYABA 萱場 → walk(2min.) to NCU
 ②Taxi(about 20min., more than 3000yen)→ NCU
   ◇If you use taxi, please use the other attachment.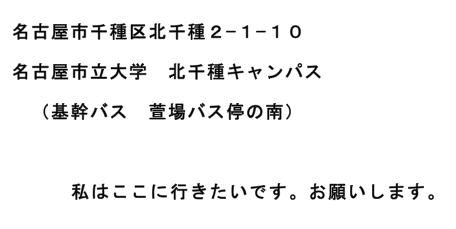 That says; I want to go to Nagoya City University Kita Chikusa Campus.
    It includes the address.

 ③Subway
 (Sakuradori Line(for Tokushige))
  →(5min.)HISAYA-ODORI久屋大通→(Meijo Line(clockwise))
    →(12min., 270yen)NAGOYA DOMEMAE YADA(Exit 1)
       → walk(10min.) to NCU
 (Higashiyama Line(for Fujigaoka))
  →(5min.)SAKAE 栄 →(Meijo Line(clockwise))
    →(12min., 270yen)NAGOYA DOMEMAE YADA(Exit 1)
       → walk(10min.) to NCU
 ④JR(Chuo Line(for Mizunami))
 →(12min., 200yen)OZONE 大曽根 → walk(30min.)to NCU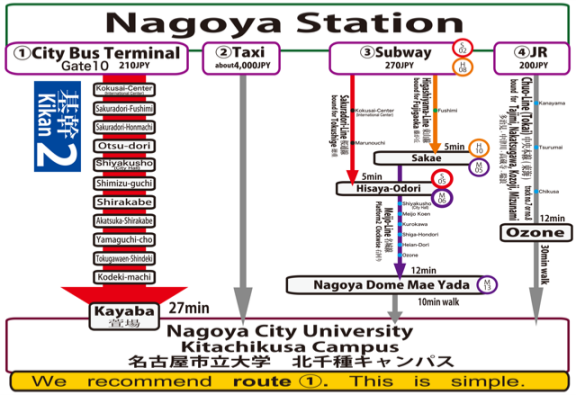 ↑ Click on the diagram to enlarge.

    to top
◆from KANAYAMA to NCU Kita Chikusa Campus
  Subway(Meijo Line (clockwise))
   →(19min., 270yen)NAGOYA DOMEMAE YADA(Exit 1)
     → walk(10min.) to NCU
    to top
---

◇How to get on/off the city bus in Nagoya
    to top

---