Logement
Delegates are responsible for making their own hotel reservations and settling the bill on departure. The conference will be held at Borges Cultural Centre, located in downtown Buenos Aires:
Centro Cultural Borges
Viamonte and San Martín
C1053ABK - Buenos Aires - Argentina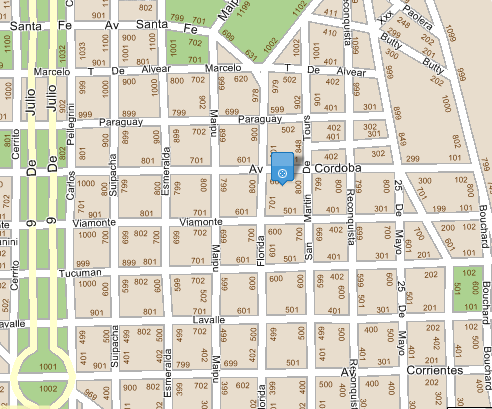 HOTELS WITH SPECIAL RATES FOR THE EMS
2009 Tarifas Corporativas:
Las siguientes tarifas incluyen el desayuno buffet, uso del gimnasio, sauna, solarium,
piscina descubierta y libre acceso a WI-FI internet en las habitaciones.

Aspen Suits

150 suites of one, two and three spacious and comfortable rooms. The rooms, warmly furnished and decorated, are equipped so as to make guests feel like home

Standard Suite ( 27 m2): Usd 70
Superior Suite (32 m2): Usd 75
Deluxe Suite ( 40 m2): Usd 80
One Bedroom Suite (46 m2): Usd 85

Esmeralda 933 (C1007ABK) Ciudad de Buenos Aires
Phone: +54 (11) 5166-1800 / Fax: +54 (11) 4313-8059
www.aspensuites.com.ar

Aspen Towers

75 rooms featuring marble bathrooms with Jacuzzi baths and comfortable work area equipped with state-of-the-art technology: WI FI Internet, LCD TV and digital phones with voice mail.

Standard: Usd 110
Superior: Usd 120
Deluxe: Usd 130

Paraguay 857 (C1057AAK) Ciudad de Buenos Aires
Phone: +54 (11) 5166-1900 / Fax: +54 (11) 4313-2662
www.aspentowers.com.ar

RESERVATIONS
Toll Free: 0800-800-9011
reservations@aspensuites.com.ar
www.aspenhotels.com.ar
HOTELS WITH AVAILABLE CORPORATE RATES
REGENTE PALACE HOTEL ****


Suipacha 964 - Ciudad de Buenos Aires
Phone: +54 (11) 4328-6800
www.regente.com
HOTEL CENTRO NAVAL (sindical)

Av. Córdoba 622 - Ciudad de Buenos Aires
Phone: +54 (11) 4322-5311
www.centronaval.org.ar
YOU MUST TO CONFIRM THE RESERVES WITH 3 DAYS OF ANTICIPATION. OTHERWISE, IT WILL BE AUTOMATICALLY CANCELED.
About Buenos Aires:
http://www.bue.gov.ar/informacion/index.php?&lang=en
Official Tourism web site of Buenos Aires City Government: http://www.bue.gov.ar/home/
Accomodation: http://www.bue.gov.ar/servicios/?menu_id=20&info=alojamiento (Retiro and San Nicolás neighborhoods are the closest to the venue where the conferfence will be held).
Safety during your stay: http://www.bue.gov.ar/informacion/index.php?menu_id=99